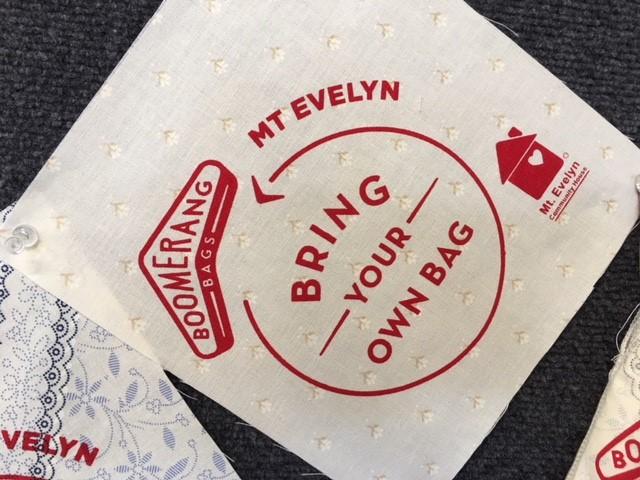 Our journey began in August 2017 when Anna and I filled a van full of beautiful upholstery fabrics and saved them from landfill. The Mt Evelyn Community House then generously supported us by providing space to store fabric and sew, and by purchasing a silk screen plus ink to start printing pockets for our future bags until the group was able to repay these basic start-up costs.
After sewing consistently during September and October and making a bag stand we launched our group at the 2017 Mt Evelyn Street Party selling many bags and raising awareness in our community of our pledge to replace the single use plastic shopping bag with a beautiful reusable fabric bag.
We now have a wonderful band of volunteers who meet ever fortnight at the Community room to sew, laugh and eat while continuing to produce a steady stream of basic over the shoulder bags, produce bags and heavy duty shopping bags that match the style of bags sold by the major supermarkets.
We are very proud of our volunteers: Steve who helps with screen printing and cutting. He uses our custom made bags to deliver the local papers as well as photographing the bags he took to Japan recently to give to relatives. Win our octogenarian is an unstoppable force on a sewing machine and a delight to chat with, but don't get between her and the food!
Sue and Christina who after sewing will take fabric home to make more bags to fill orders. Jacqui who will design a new style of bag and generously teach others how to make them while also sewing extra bags at home. Annie whose laugh is legendary and works an over-locker to death. Rebecca who will happily do any task required while her gorgeous daughter Francesca distracts the rest of us with a winning smile. Paula and Robyn who while sewing will keep us entertained with the most interesting discussions and donate books, ideas and other essentials.
We are here for the future so come and see us, buy a bag and have a chat to help us spread the word or volunteer to join us in our crusade against single use plastic. Sewing skills are not necessary as there is cutting, ironing, threading and folding required throughout construction. We would love some marketing and display skills if there are any on offer. It is not necessary to attend every fortnight as we know life is busy, but every little bit of help assist us to achieve the reduction of plastic waste in our environment and community.
Jo and Anna